As we continue to highlight winners of the 2011 Construction Marketing STAR Awards, one of the most prestigious categories of the program is the 2011 CONSTRUCTION MARKETER OF THE YEAR, awarded to the top entries in each region (North America in 2011, expanded to Canada, Latin America, Europe and Asia in 2012).
This year's winner include USG for the Midwest region, MWH Constructors for the Western region, and McGraw-Hill Construction for the Eastern region. Judging criteria was based on program description and objectives, strategies and execution, and results measurement. Following are more details on the 2011 Construction Marketer of the Year winners.
Midwest Region Winner: USG, Integrated Campaign Category
Building materials manufacturer USG is truly an innovator within their industry, and this innovation carried over in their recent integrated marketing campaign. With the campaign tagline "The Weight Has been Lifted" several marketing elements were used culminating in an outstanding, SuperStar Award worthy campaign. Below is a list of all campaign elements, followed by select images.
Print Advertisements
Microsite
Videos
Social Media: Twitter and Facebook
Banner Ad's
Sales Support: Posters/Banners/Countermat/Playbook, PoloShirt and several other outstanding elements!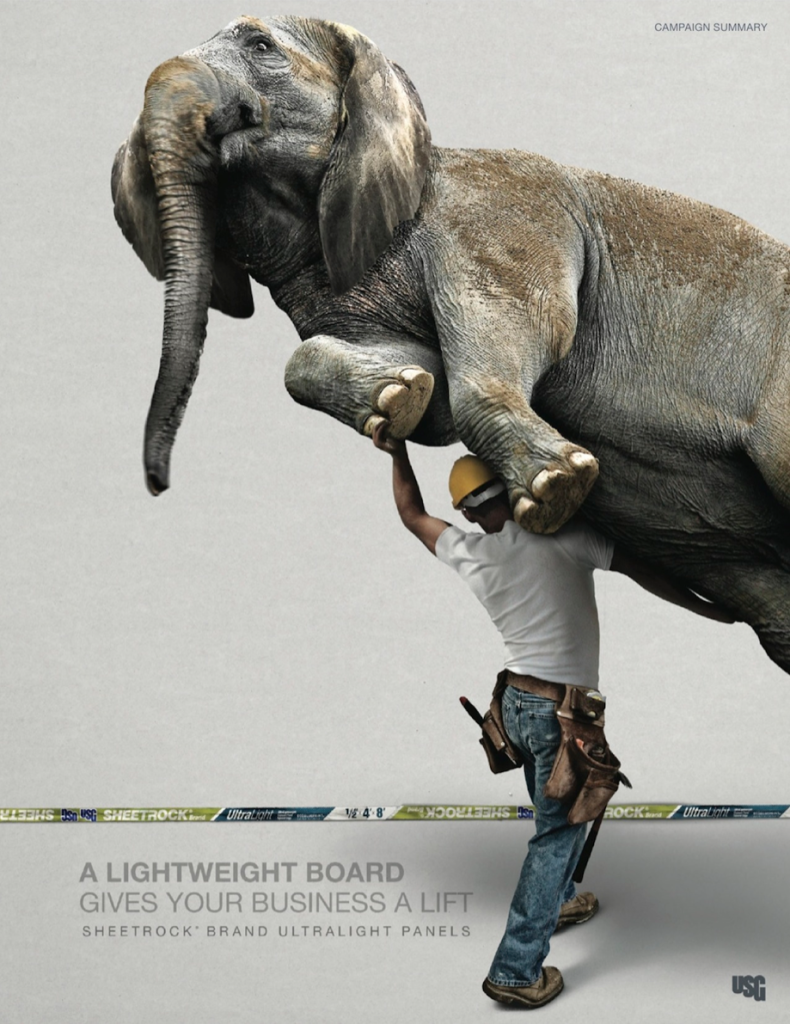 Thank you to USG for sharing this campaign with the Construction Marketing Association, and congratulations on winning Construction Marketer of the Year.
Western Region Winner: MWH Constructors, Print Ad Category
"MWH Constructor's Vision is to be the most sustainable construction company in the wet infrastructure industry." This vision was showcased in the print advertisement shown below. Beautiful, eye-catching photography is brought to life with the clean, refined copy on the left-hand side, followed by a list of their strategic services offered. This print ad takes your eyes exactly where they need to, and all elements are tied together with a curvaceous use of white space at the bottom.
Thank you to MWH for submitting this print ad to the 2011 Construction Marketing Star Awards.
Eastern Region Winner: McGraw-Hill Construction, winner of 13 STAR Awards
Also winner of the Construction Marketing STAR Awards Best-In-Show based on total STAR awards, McGraw-Hill Construction also received Construction Marketer of the Year for the Eastern region. An example of McGraw-Hill winning entries is their Cocktail Napkin Sketch Contest. Displayed below you will see the designs created for the contest, as well as some of the outstanding creative submissions from students and professionals alike. Who would have known that such detailed artwork could be done on a napkin? The results of the napkin contest speak for themselves, with over 1,200 napkin submissions. Winners were selected in one of two categories due to the vast amount of submissions. These categories included professional architects and non-professionals. Take a look below out the outstanding work!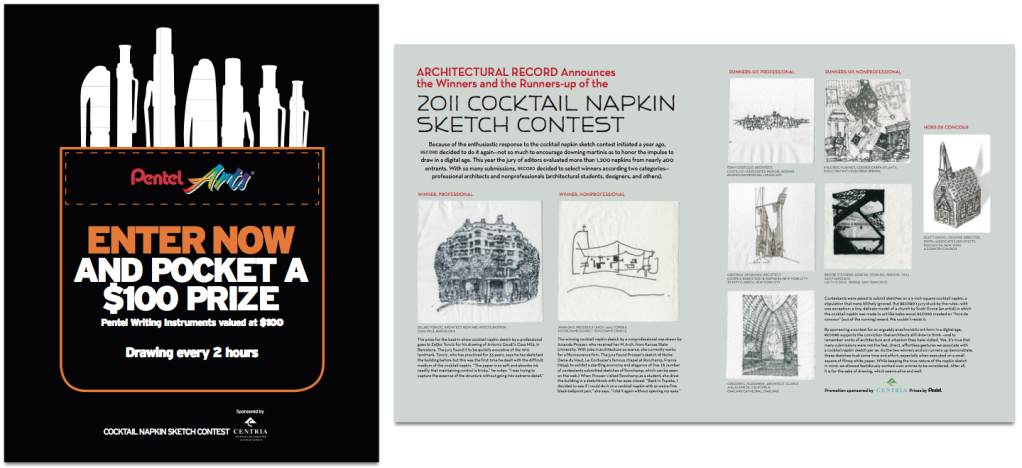 Thank you to McGraw-Hill Construction for submitting to the 2011 Construction Marketing Star Awards.
Become the next Construction Marketer of the Year! The 2012 CMA STAR Awards will get underway in January, with the entry deadline in September and winners announced by November. For more information, visit the CMA awards subpage: www.ConstructionMarketingAssociation.org/Awards.cfm
Other Award Winners
CMA STAR Awards – 2011 Winners Announced
2011 CMA Star Awards Best-in-Show
Plese be sure to Retweet, Facebook Like, bookmark and/or comment on this blog!