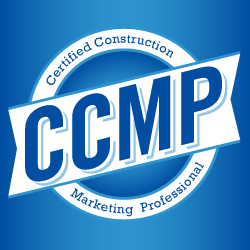 The Construction Marketing Association (CMA) announces the availability of a new and exciting marketing certification program: the Certified Construction Marketing Professional (CCMP) Program.
The program awards a Certificate in Construction Marketing, along with the license to use the professional designation, CCMP. A comprehensive marketing handbook is provided to program registrants, who are required to pass a rigorous examination. This book, Tools of the Trade: Modern Marketing for Construction Brands is now available for purchase.
Professional certification benefits both the manager and the sponsoring company by providing advanced training, exposure to best practices, and recognition. The program is designed for marketing managers and executives for brands (e.g., building products, equipment, etc) that target the construction industry, or that work for architectural, engineering or construction firms. Program fees are $790 for non-members, and $690 for Construction Marketing Association members. Group rates are available on request. For more information, read about the marketing certification program for construction.
In development for nearly two years, the program covers all aspects of marketing, from strategic initiatives of planning, research and results measurement, to all types of tactical marketing implementation. The program offers separate content for dealer marketing, retail home improvement marketing, and marketing architectural, engineering and construction (A/E/C) services.
Sign up for the Marketing Certification Program for Construction Professionals
Are you up to the challenge and ready to sign up for the certification? Becoming a Certified Construction Marketing Professional is the next step in advancing your career. If you feel you've learned enough about the program, you can proceeed to register for the CCMP here.
ABOUT CMA
The Construction Marketing Association (CMA) provides professional development and training, resources and information, networking and recognition to marketers in the construction industry. CMA sponsors the annual COnstruction Marketing STAR Awards, and the Certified Construction Marketing Professional (CCMP) program. Full information on the association is available on the website at www.ConstructionMarketingAssociation.org. The site links to the Construction Marketing Blog with marketing news, resources and related content, and the association's Twitter, Facebook, YouTube and LinkedIn pages. Questions? Contact Neil Brown at 630-868-5061.