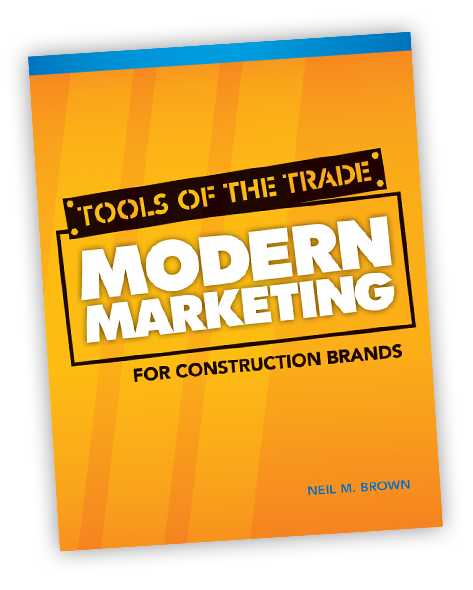 You can now purchase the book Tools of the Trade: Modern Marketing for Construction Brands.
Modern Marketing for Construction Brands covers all aspects of marketing in the construction industry, from building products and equipment, to A/E/C services and retail, along with specfic examples of construction marketing implementation. Construction professionals will learn useful information as it relates to the construction industry on strategic marketing, tactical marketing, specialized channels and segments (distributor and retail channels, marketing architectural, engineering and construction services), practical marketing considerations and construction marketing resources.
In addition, Modern Marketing for Construction Brands serves as the as the study guide for CMA's Certified Construction Marketing Professional (CCMP) program, which now offers a test to receive CCMP certification. For more information on the program, and to sign-up for the certification, please learn more about the marketing certification program and review our previous posting.
"Marketing is changing rapidly. Many textbooks, curriculums and marketing certification programs have not kept pace with the realities of modern marketing, certainly not with specific focus on the construction industry. We saw the need for sharing modern marketing best practices, which is aligned with the mission of the Construction Marketing Association," explains author and CMA Chairman Neil M. Brown.
To purchase this book, please CLICK HERE.

ABOUT THE CONSTRUCTION MARKETING ASSOCIATION
The Construction Marketing Association (CMA) provides professional development and training, resources and information, networking and recognition to marketers in the construction industry. Full information on the association is available on the website atwww.ConstructionMarketingAssociation.org. The site links to the award-winning Construction Marketing Blog with marketing news, resources and related content, and the association's Twitter, Facebook, YouTube and LinkedIn pages. Questions? Contact Neil Brown at 630-579-8383.
TOOLS OF THE TRADE: ABOUT THE AUTHOR
Neil M. Brown is Chairman of the Construction Marketing Association, and Chief Marketing Officer (CMO) of Construction Marketing Advisors. Prior to these roles, Brown was CEO of numerous marketing consulting and creative agencies for the past 15 years, managing some of the biggest brands in the construction sector. Brown was a brand manager at electrical products marketing powerhouse IDEAL Industries, and later CMO of an architectural metals manufacturer. Neil earned an MBA from Northern Illinois University, and a BS-Marketing Cum Laude from Southern Illinois University. Neil is a frequent speaker, author and contributor to Advertising Age, BtoB magazine, Marketing News and many other publications. In 2009, he published the book, Branding Best Practices:  A Guide to Effective Product and Business Naming. In 2012, he published, Tools of the Trade:  Modern Marketing for Construction Brands.